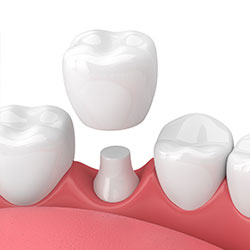 What are crowns?
Crowns are a cosmetic restoration used to strengthen a tooth, improve its shape, or fill any gaps. Crowns are most often used for teeth that are broken, worn, or partially destroyed by tooth decay.
Why do we need crowns?
Crowns or onlays (partial crowns) are needed when:
There is insufficient tooth strength remaining to hold a filling
Replace missing, broken, damaged tooth
Cover a dental implant
After a root canal treatment to protect the restored tooth
Aesthetically improve your smile
What are crowns made of?
Crowns can be made of porcelain, metal, or both, there are various options to create natural-looking teeth. However, porcelain crowns are most often preferred because of their strength and their ability to mimic and blend the translucency of natural teeth.
What happens while placing a crown?
Usually this is a 2-day procedure but in our office we do same day crowns!
First off, the dentist files the surrounding teeth to make room for the crown and any present decay is removed. Secondly, an impression is taken to create an accurate model for the crown. This model is used by our in-lab to create the crown, using digital X-rays and the CEREC (milling machine). This high-end technology, allows our office to provide you with same day crowns without the usual wait time and unnecessary tooth sensitivity.This CAD/CAM technology aid our dental lab fabricate precise shapes and sizes for dental restorations such as inlays, onlays, crowns, and bridges. This allows us to provide you with durable, aesthetic, and personalized restorations in a more efficient manner. After the crown is milled, it's "cemented" onto an existing tooth and fully covers the portion of your tooth above the gum line. In effect, the crown becomes your tooth's new outer surface.
Your crown is carefully created in our lab from your personalized tooth impression, which allows our dental laboratory technician to examine all aspects of your bite and jaw movements. Your crown is then exclusively sculpted just for you. Our goal is to restore your smile while pleasing any of your needs by our same day crowns.